Decision Tables for Jira plugin supports business process automation in Atlassian Jira.
The plugin adapts solutions known from BPM class systems for Jira. It is based on the Camunda engine and requires the use of ScriptRunner.
The benefits of implementing Decision Tables for Jira can be converted into $$$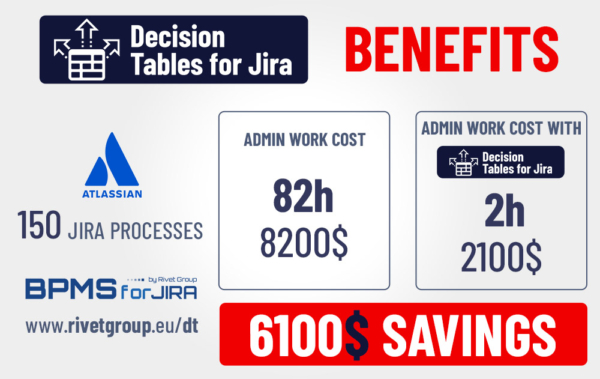 The tool relieves IT departments and business users by minimizing the list of activities related to changes in processes.
Thanks to the add-on, business and IT teams do not duplicate their activities which means that JIRA administrators can wipe the sweat from their foreheads and take care of real work, instead of tedious handling of cyclical changes in processes!
Based on several Rivet customer cases, we calculated examples of financial benefits for the following assumptions:
Jira DC 2000 users
Decision Tables for Jira purchase cost: $ 2,100
average number of changes in processes per year: 150 changes / year (30 processes, 5 changes each)
administrator involvement in registering changes without using a plugin: 82h / year
administrator involvement in registering changes using a plugin: 2h / year
As you can see, the financial benefit of using Decision Tables for Jira
is over $ 6,000.
The satisfaction of the JIRA administrator is PRICELESS